Details

Parent Category: Brands and bottlings
Created:

13 February 2007

Last Updated:

25 August 2012

Published:

13 February 2007

Hits:

5247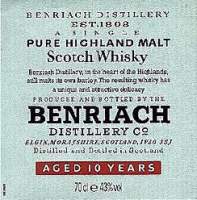 ---
BENRIACH
---
Location :
Highland. Close to Longmorn, south of Elgin, Morayshire. Grampian Region.. - Situated three miles south of Elgin to the east of the A941.
Region :
Highland
Country :
Scotland
Type :
Scotch, Single Pure Malt. Highland Speyside (Lossie)
Distillery :
Benriach Distillery
Longmorn Elgin Moray / Morayshire IV30 3SJ
Phone +44 01542-783400
Fax +44 01542-783404
Founded :
Est. 1898., and extended in the 1960's and 1970's.
Owner :
?
Producer :
Build by John Duff. Wm. Cadenhead Ltd and Gordon & MacPhail Ltd.
Producer : Seagram/Chivas
Water :
Local springs.
Remark :

Benriach

In 1994 it became available in its first official bottling as a single malt.

Benriach and Longmorn constributes to the Chivas Regal blend.

From the book 'The Scottish Collection' Classic Malts by Carol P. Shaw :
Tasting notes : A medium bodied, fruity whisky with sweetish overtones and a gently malty finish. A new bottling has been available from the distillery since 1994. Taste rating = 4
Originally built in 1898, Benriach was closed in 1990, after recession hit the previously booming whisky industry. It was refitted and reopened in 1965, although not completely modernized, still retaining its hand turned malting floor. The company is owned by Segram, and most of its produce goes into their blends.
Although the distillery now produces its own, official bottling, this is still not an easy whisky ot come across.

From the Whisky pilot by Uniqum Systems :
Built in 1898, Benriach is situated in Speyside close to the River Lossie. About that time the whisky market suddenly went into recession. It was therefore closed in 1900 and did not open again until 1965, when it was rebuilt by The Glenlivet Distillers Ltd. It has been owned by The Seagram Company of Canada since 1977 and features four stills and floor malting, which is not that common.
Previously only available from independent bottlers, Seagram introduced their own bottling in 1994. The sister distillery to the much prized Longmorn next door, both distilleries were built within four years of each other in the boom years of the 1890's. Like Longmorn, it is an important constituent of the flagship Seagram blend, Chivas Regal.
Benriach Distillery is situated three miles south of Elgin to the east of the A941 .

---
Benriach Bottlings
---
Benriach
10 years old
Age :
10 years old.
Vol :
43%
Type :
?
Price :
?
Taste :
?
Remark :
Sorry no Benriach remarks at present time.
Age :
10 Years Old (21Years old - 46% from Wm. cadenhead Ltd.)
Benriach Highland - Malt. Speyside 1994 first official bottling as a single malt.
Benriach 10 years old Single Speyside Speyside 10 43 Seagram bottling.
Benriach Single Speyside Speyside 1969 40 Gordon & MacPhail bottling.
---
Benriach
vintage 1969
Age :
vintage 1969
Vol :
40%
Type :
?
Price :
?
Taste :
?
Remark :
Benriach 1969 vintage - connoisseurs choice from Gordon MacPhail
Benriach 1978 Cask Strength Cask Strength Speyside 1978 1995 59,7 Bottled in March 1995, available from Wm. Cadenhead. This whisky is sherrywoodmatured.
Benriach 1982 Single Speyside Speyside 1982 40 1982 distilling available in 70cl & 5cl bottles. A limited number of the 1969 distilling is also available in 5cl bottles. Finally the 1982 distilling is also available in Cask strength, strength 62,9%vol. Comes in 75cl bottles.
Benriach 1982 Cask Strength Cask Strength Speyside 1982 60,6 Available as 1982 distilling.
---
| | |
| --- | --- |
| LINKS.......... | to official Benriach or related web pages. |
| URL : | None at present time. |
---
---
AWA
- Alternative Whisky Academy is a private, none-commercial, no-profit, none-selling whisky society.