Details

Parent Category: Brands and bottlings
Created:

13 February 2007

Last Updated:

25 August 2012

Published:

13 February 2007

Hits:

6007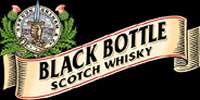 ---

BLACK BOTTLE
---
Location :
Scotland
Region :
?
Country :
Scotland
Type :
Blend
Distillery :
http://www.blackbottle.com/
Gordon Graham and Co.
Westthorn,
1780 London Road
Glasgow
Gordon Graham & Co.

Founded :
1879
Owner :
Allied Distillers
Producer :
?
Water :
?
Remark :
From Collins Pocket referance : Whisky
Black Bottle was first produced by a family of merchants from Aberdeen in 1879, and has been a premium blend ever since it first appeared on the market. The company was sold to Long John International in 1959, later being acquired by Allied Distillers in 1990, before ultimately passing into the control of Matthew Gloag, the producers of The Famous Grouse blend. A big seller in the Scottish market, Black Bottle is linked to Laphroaig. Its distinctive pot-still shaped bottle, used almost since its first appearance, rapidly became tis trademark and has remained virtually unchanged to the present day.
Tasting comment : Black Bottle is a smooth, superior-quality blend with a fresh hint of peat, complemented by sweeter, malty notes.

Producer of a Ten Year Old Deluxe or Premium Blend.

---
BOTTLINGS
---
Black Bottle
Age :
? years old.
Vol :
40%
Type :
Blend
Price :
?
Remark :
None at present time.
Ten Year Old Deluxe
Premium Blend
Black Bottle Blended Country of origin 3 Gordon Graham and Co. Available in wide range of bottles ranging from 5 cl to 4,5l.
Black Bottle Blended Allied Distillers Allied Distillers
Black Bottle Blended. Allied Distillers
---
| | |
| --- | --- |
| LINKS.......... | to official Black Bottle or related web pages. |
| URL : | None at present time. |
---
---
AWA
- Alternative Whisky Academy is a private, none-commercial, no-profit, none-selling whisky society.