Black Nikka Whisky
Description
Black Nikka Whisky
Japan
Japanese Whisky
See Nikka
Black Nikka is a brand of Japanese whisky. It is manufactured by the Nikka company.
Black Nikka is a 37% alcoholic whisky, available at corner stores throughout Japan in 180, 300, 700, 1800, 1920, 2700, and 4000 mL bottles. Individual servings, pre-mixed with soda or water, are also available. As of 2009 Nikka decided to rename the Black Nikka brand to just "BLACK" for unknown reasons.
http://www.nikka.com/eng/products/whisky_brandy/nikkablended/black/
The Black Nikka label features the familiar figure of the "King of Blenders." This long-selling whisky has been affectionately known as "Bearded Black" since it first went on the market in 1965.
BLACK NIKKA 8 YEARS OLD
The mature and luxuriant scent accrued during the 8-year aging process in casks, and the deep and fragrant yet smoothly drinkable taste, are characteristics of this whisky.
http://www.nikka.com/eng/products/whisky_brandy/nikkablended/blackclear/
With its familiar black label featuring the bearded "King of Blenders," Black Nikka is among the best known of Nikka brands. Black Nikka Clear Blend was the first Japanese whisky to make full use of non-peat malt, from which it derives its characteristic soft aroma and smooth palate. This whisky is distinguished by its dry and accessible flavor.
Black Nikka Whisky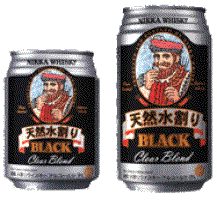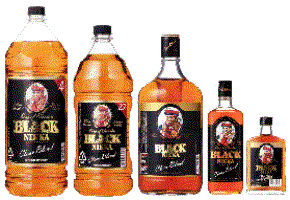 Reviews
There are yet no reviews for this product.