Details

Parent Category: Brands and bottlings
Created:

23 January 2007

Last Updated:

25 August 2012

Published:

23 January 2007

Hits:

18752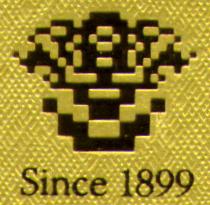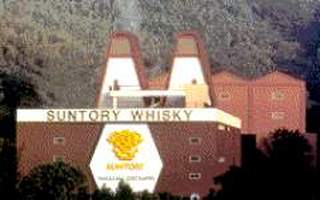 ---
Suntory
---
Location :
Osaka
Region :
Osaka - south / central.
Country :
Japan
Type :
Malt / Blended - Japanese
Distillery :
Suntory Distillery
Suntory, 1-40 Dojimahama 2-chome,
Kita-ku Osaka 530,
Japan
81-6-346-1131
Japan
SUNTORY - Whisky (and other spirits) from Japan.
Site availible in English or on http://www.suntory.co.jp/ in Japanese.
(Old url : http://suntory.dec-j.co.jp/ is down and out.)


---

Suntory Ltd Liquor Division 1-2-3 (Distributor) Japan
Motoakasaka Minato-ku
Tokyo 107, Japan
(Minato-ku is close to the center of Tokyo)
+81 3 3470 1183
+81 3 3470 1330
Japan

Founded :
1899
Owner :
Suntory
Producer :
Suntory
Water :
?
Remark :

Suntory :

Suntory is the largest still in the world.
The label on Hibiki bottles are made of handmade paper, after original old Japanese tradition.

From the Whisky pilot by Uniqum Systems :
The logotype for Suntory is the hibiki mark, symbolising Suntorys efforts to contribute to harmony and happiness among people everywhere. Today the Suntory Ltd is multinational company with a wide variety of companies under its wings. They produce beer, wine, whisky as well as medicines, papers and run restaurants, produce films and music just to mention a few of the branches of Suntory.
But it all started back in 1899 when Shinjiro Torii started to develop a wine. After eight years he had produced Akadama, a sweet red wine. With that he launched the first Japanese Western-style alcoholic beverage industry. In 1923 he established the first whisky distillery in Japan, the Yamazaki distillery. He was very talented in blending and produced a whisky called Suntory Shirofuda, now known as Suntory White in 1929. In 1937 he created another blend, the Kakubin which was of even higher quality than the Shirofuda. In 1940 he introduced another new blend called Old. In 1973 Suntory Ltd built a second distillery in the Hakushu valley of the Japanese alps. The distillery was named Hakushu Distillery. A third distillery, Hakushu Higashi was built somewhat east of the Hakushu but sharing the same water.
In 1989 Suntory launched Hibiki and Crest 12 Years Old which added another two blended whiskies to the range.
They also produce the Yamazaki pure malt, as well as the Royal, Reserve, Old, Kakubin and Shirokaku blends.
Apart from the whisky they produce Suntory also imports a large number of spirits to Japan. Beefeater, Courvoisier, Jack Daniels, Campari and Drambuie are just some amon the more than 140 brands that are marketed by Suntory.


---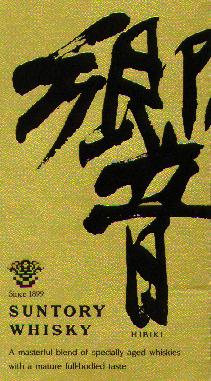 ---
Suntory Bottlings
---
Suntory Hibiki
Age :
? years old.
Vol :
43%
Type :
Blended Pure Malt Whiskey
Price :
(in Danish kr. 70cl. : ?,- )
Taxfree aprox. 250,-
In Tokyo aprox.: dkr. 650,-
Remark :
Blended from the best 36 barrels of different malt whiskies.
The 24 stripes that are on the bottle / decanter is a symbol of the 24 hours in a day.
Personal taste:
CP
GI
HT
FS
FR
Average.
Remark...
Bemærkning.
Package/Info
06
Gold.
Guld farvet.
Bottle
10
09
Flot glas flaske/karaffel.
De 24 striber på flasken symboliserer dagens timer.
Label
Papieret er håndlavet efter gammel japansk metode.
Prop ? Metal/Kork/ Wood.
09
Glas med kork og logo graveret i toppen.
Color
Medium.
Smell
Neutral.
Taste
08
A bit sweet.
Lidt sød, let sprit !
Aftertaste
06
Price/Quality
06
---
Suntory Hibiki
21 years old.
Age :
21 years old.
Vol :
?%
Type :
Blended Pure Malt Whiskey
Price :
900 Danish Kr. Tax free - Tokyo Airport. (Thanx Dad-)
Remark :
Arhhh... Is it a sherry finish ? Well balanced.
---
Hibiki 12 years old Vatted Malt 20 Suntory 43 Hibiki is Japanese for chorus of harmony and symbolises the harmony of the taste. It is made of a number of malt whiskies matured for at least twenty years.
Kakubin Blended Country of origin Suntory 43 It is one of Suntory classic labels, created as early as 1937. Kakubin means 'square bottle', derived from the unique shaped bottle.
Kioke Jikomi Malt Suntory Launched by Suntory in 1992 from the Hakushu East distillery.
---
Suntory
Royal
Age :
? years old.
Vol :
43%
Type :
Blended
Price :
?
Taste :
?
Remark :
Suntory is very proud of this whisky which they regard as one of finest blended whiskies in Japan.
Suntory Whisky Royal

Shirokaku Blended Country of origin Suntory
Suntory (A Whisky Copy) Suntory Malt from 36 different Malts.
Suntory Pure Malt Whisky
---
Suntory
Old Whisky
Age :
? years old.
Vol :
?%
Type :
?
Price :
?
Taste :
?
Remark :
Sorry no Suntory old whisky remark at present time.

Suntory Special Reserve
Suntory Whisky Imperial - Remark: Soft, not smokey, a bit in catagory with Royal Salute / Cardhu - (AWA Ladies whisky)
Suntory Whisky Excellence
Suntory Whisky White Label
Suntory Shirofuda Blended Country of origin Suntory
Yamazaki Pure malt whisky Suntory Suntory's oldest still. Founded in 1923
Yamazaki Malt 12years, Suntory 70CL 43,00 650.00 hos
Juuls Vinhandel
Yamazaki 18 years old Single malt whisky Suntory Smokey but not long aftertaste. A bit sweet and salty (with a hint of Irish touch) - Nice !
---
---
---
AWA
- Alternative Whisky Academy is a private, none-commercial, no-profit, none-selling whisky society.
| | | | |
| --- | --- | --- | --- |
| | Site made by | | Last Modified 11/16/2006 21:53:40 |