Details

Parent Category: Brands and bottlings
Created:

05 January 2008

Last Updated:

25 August 2012

Published:

05 January 2008

Hits:

14252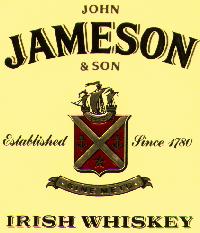 ---
JAMESON, JOHN - JOHN JAMESON.
---
Location :
Dublin, Ireland.
Region :
Dublin
Country :
Ireland.
Type :
Irish Whiskey - blend.
Distillery :
John Jameson & Son.
Bow Street, Dublin 7, Ireland.
Produced at : Midleton Distillery, Midleton, Co. Cork.
The Jameson Heritage Centre at Midleton.
Open 10.00 - 18.00 (6pm.) from March to October.
Phone 021-613594.

Founded :
1780
Owner :
(Irish Distillers) ?
Producer :
John Jameson & Son - (Irish Distillers) ?
Water :
Unknown (Spring water)
Remark :

John Jameson and Son

: Irish Distillers own two distilleries, Bushmills and the modern Midleton complex near Cork. Jameson are produced from whiskies distilled at these two distilleries.

From the back of the box.
When John Jameson opened his distillery in Dublin in 1780 he was carrying on a tradition of whiskey making which had its origins in Ireland over a thousand years ago.
Today Jameson Irish Whiskey is world famous for its distinctive flavour and smooth caracteristics.
Triple distilled from the finest Irish barley and pure spring water and then matured in oak casks. Jameson carries the hallmark of quality which has made it the best selling Irish Whiskey around the world.

From Collins pocket reference :
The arrival in Ireland of Scot John Jameson in the 1770s marked a significant new departure for the growing legal Irish whiskey industry.
Jameson already had connections with the Scottish industry - he had even married into the Haig family - and his son consolidated the business by marrying a daughter of John Stein, whose family who were among the biggest grain distillers in Scotland and who owned Dublin's Bow Street distillery which Jameson Senior was soon to purchase.
His exacting standards and aptitude for the business helped build his firm in the eighteenth century and into the nineteenth. Although own-label sales were still a concept of the future, Jameson's whiskey, sold through merchants, acquired the reputation, with Power's, of being the best of Irish.

A short cut/re-written from The Scotch Whisky Book by Mark Skipworth :
In the 18th century one of the five sons of John Haig, Andrew Haig went into partnership with a member of the Jameson family who went on to become famous in Irish distilling.

From The World Guide to Whisky, By Michael Jackson (Modified) :
The most Irish of whiskeys are the pot still products, matured for long periods in sherry casks, from Jameson of Dublin. Jameson has been known in the past to mature whiskeys for more than 20 years and some of these products were used in blends which may still be found here and there. However none bears the legend 20 years old, since such a blend would also contain younger whiskeys.
There is also a splendidly smooth, mellow Irish which is a blend of very well matured Jameson Whiskys, the youngest being 12 years old, under the Redbreast label. The whiskeys are from Jameson but the brand is bottled and distributed by another respected house, the Irish branch of Gilbey's.
A much less hefty, but still mellow - entusiasts say "sophisticated" - blend of pot still whiskeys, again matured in sherry casks, in produced by Jameson under the name Crested Ten label.
None of these whiskeys is widely found outside Ireland. The regular Jameson Irish Whiskey, the best known and most widely sold product of the house, also has a pronounced pot still character, although its component distillates are younger and generally lighter. It is matured in charred American Oak. This is the favourite whiskey in the Dublin area and the most widely sold in the United States.
As his surname suggests, John Jameson was Scot - his wife was a member of the Haig whisky family - but he moved to Dublin in the 1770s and quickly won reputation as a demanding perfectionist in the production of Irish. Another Scottish distilling family, the Steins, had their Dublin distillery taken over by a Jameson as the dynasty established itself in Ireland. Eventually, the Jameson owned a number of distilleries in Ireland and had two million gallons of whisky maturing under the streets of Dublin.
Members of the family are still involved in the business, though in 1966 Jameson became a part of the newlyformed Irish Distillers Group.
The Jameson headquarters, in dour grey stone, with Georgian, Victorian and more recent buildings, now house Irish Distillers' office in Dublin, along with a smal but interesting museum called Irish Whiskey Corner and a bar-style tasting room, "The Ball of Malt".
Jameson, in Bow Street, near Smithfield fruit market and the river Liffey, used to look across at its neighbour and great Dublin rival, the John Power distillery. Then, for a time, production of Jameson shifted to Power's premises before the structuring of Irish Distillers was completed.
Although Jameson whiskeys are still vatted in Dublin, production begins at the group's distilleries elsewhere in Ireland; the old sites in the city had become just too congested.
---
BOTTLINGS
---
Crested Ten
by Jameson
Age :
? years old.
Vol :
40%
Type :
Blended
Price :
From the German Scoma Malt Whisky Gmbh : 0,70 l, 43,95 DM
From the German Whisky Store : 43,00 DM. or 42,50 DM. (Doun't know the difference ?)

Remark :
Michael Jackson says :
Jameson Crested Ten has the family palate, but in a lighter, cleaner manifestation, with a hint of sherry. A purportedly "sophisticated" Irish whiskey for Dublin's ambitious executives and businessmen.
---
Jameson
Age :
? years old.
Vol :
40%
Price :
From the German Scoma Malt Whisky Gmbh : 0,70 l, 34,90 DM
From the German Whisky Store : 1 Liter 44,00 DM.

Remark :
Triple distilled.
Jameson's has a mellow sweetness balanced by fresher, floraly notes. Regarded by many as the classic of its type, this is the biggest selling Irish whiskey outside Ireland.
Words from Michael Jackson : Jameson is the premium brand that best exemplifies the character of "Irish".
It gently expresses the pleasantly perfumy oiliness and roundness of body that is typical.

This is one of the best Irish whiskies in use for Irish coffee - when taking price and quality in note.
---
Jameson 1780
Old Irish whiskey
Age :
12 years old.
Vol :
40% or 43%
Price :
Jameson 1780 - 12 Years old, 40% vol., £ 22.50 at Loch Fynes Whiskies.
From the German Scoma Malt Whisky Gmbh : 43,0%, 1,00 l, 69,95 DM
From the German Whisky Store : Reserve 40% 53,00 DM. or
Reserve, 1 Liter, 64,00 DM.

Remark :
Jameson 1780 old Irish whiskey, Special Reserve, Matured for not less than twelve years.
is the most readily-availible "super-premium" Irish. With its classic Jameson character, and its maturity, it is a hearty taste of Dublin's distilling heritage.

Awa remark : This is a bit more Malt than the standard bottle and you can taste the tripple distilled malt - so do not use this bottling in Irish coffee.
OTHER BOTTLINGS :
From the German Scoma Malt Whisky Gmbh :
Jameson Special Reserve, 100 Jahre Radio, OA, 40,0%, 0,70 l, 71,90 DM
Jameson Special Reserve Gold, blended, OA, 43,0%, 0,75 l, 99,95 DM
Jameson Distillery Collection, blended, OA, 43,0%, 1,00 l, 69,00 DM
From the German Whisky Store :
Jameson Special Reserve - 100 Jahre Radio 40% 73,00 DM.
Jameson Gold 43% 89,00 DM.
---
---
| | |
| --- | --- |
| LINKS.......... | to official Jameson - John Jameson Whiskey or related web pages. |
| URL : | None at present time. |
---
---
AWA
- Alternative Whisky Academy is a private, none-commercial, no-profit, none-selling whisky society.