Kilbeggan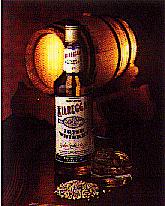 ---
KILBEGGAN
---
Location :
Westmeath west of Dublin
Region :
Westmeath
Country :
Ireland
Type :
Irish Malt whiskey
Distillery :
Cooley distillery.
Dundalk, Co. Louth
Founded :
1200 ?
Owner :
Cooley distillery.
Producer :
?
Water :
Unknown (The river Brusna)
Remark :

Kilbeggan

: Remarks and Review is under construction.
Danish Remark :

Kilbeggan, Irish Whiskey

Kilbeggan er en lille landsby i grevskabet Westmeath lige vest for Dublin. Landsbyen opstod her i forbindelse med et kloster og allerede i det 12. århundrede begyndte munke at fremstille Whiskey her.
Området er ideelt til Whiskey produktion fordi det ligger midt i et område med frugtbare bygmarker og fordi floden Brusna løber gennem landsbyen.
Irsk maltbyg er råstoffet til Irsk Whiskey og godt og blødt vand er vigtigt til Whiskey fremstilling. Først og fremmest til spiringen af maltbyggen.
---