Whisky Catalog by Alternative Whisky Academy
This is a whisky catalog with information about the different types of Whisky, Whiskey and Bourbon, sorted by contry.
If you want to buy whisky please check this page to find a whisky shop -> http://www.awa.dk/whisky/wshops/index.htm
Sorry but have an estimated +5000 pages to convert and only +1000 reached ... (Working hard to update all pages).
AWA - Alternative Whisky Academy is a private, none-commercial, no-profit, none-selling whisky society. (Private owner for private usage.) 
We do NOT sell whisky or anything else.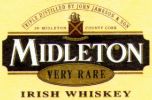 ---
Midleton
---
Location :
County Cork.
Region :
Northern Ireland
Country :
Ireland
Type :
Very rare Irish Whiskey.
Distillery : 
Midleton Distillery. John Jameson & Son
Jameson Heritage Centre, Midleton, Co. Cork, Contact the Manager Phone 021-631821
or Whiskey Corner, Bow Steet Dublin contact Manager Phone 01-8725566.
Visitor Centre: 021-613594
Founded :
? (Over one thousand years ago) - other sources says 1975
Owner :
?
Producer : 
?
Water :
?
Remark :

Midleton :

From the Whisky pilot by Uniqum Systems :
Midleton is the distillery constructed by the Irish Distillers Company to replace Jamessons, Powers, Tullamore and more. It was built in 1975 and was designed using the latest technology. Midleton have the capability to produce pure pot still as well as pure single malt and grain whiskey and they also make a number of each category, each one with its own unique style and taste. Midleton also produce the grain whiskey used by Bushmill Distillery. The warehouses used at Midleton use pallets stored vertically to store the whiskey unlike the usual long rows of barrels found in Scotland.
---
Manufacturer:
Midleton Distillery
Results 1 - 1 of 1

Midleton