Whisky Catalog by Alternative Whisky Academy
This is a whisky catalog with information about the different types of Whisky, Whiskey and Bourbon, sorted by contry.
If you want to buy whisky please check this page to find a whisky shop -> http://www.awa.dk/whisky/wshops/index.htm
Sorry but have an estimated +5000 pages to convert and only +1000 reached ... (Working hard to update all pages).
AWA - Alternative Whisky Academy is a private, none-commercial, no-profit, none-selling whisky society. (Private owner for private usage.) 
We do NOT sell whisky or anything else.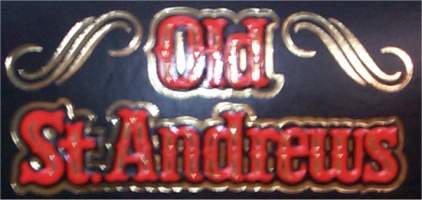 ---
Old St Andrews
---
Location :
?
Region :
Findhorn
Country :
Scotland
Type :
De-Luxe Blend
Distillery : 
Old Sankt Andrews
144 Kirkdane
London SE 26
Founded :
?
Owner :
?
Producer  : 
?
Water :
?
Remark :

Old St Andrews :

This brand is synonymous with golf. There are a number of more or less unusual bottles available, bottles in the shape of a golf ball, or packed with a handmade leather golfbag.
Named after the golf course in Fife.
Did you know that the original golf course at St. Andrews were designed to be played the other way (with the clock) as normal.
The normal way to play a golf course is normally against the clock.
Now a days St. Andrews golf course is played the reverse way of original designed.
---