Travel to the distilleries
Some guides and hints on how to travel to the different distilleries.
You may find some of the older information regarding travel to Dufftown and what to se there
http://www.awa.dk/dufftown/index.htm
To read about our tour to Islay (Scotland) check this section.
Details

Parent Category: AWA Whisky News
Hits: 12588
All Aboard for a Taste of Islay & Jura!
29.09.08
The Whisky Coast in conjunction with CalMac Ferries Ltd., adds a little dram(a) to Thursday sailings to and from Islay onboard M.V Hebridean Isles.
Details

Parent Category: AWA Whisky News
Hits: 10794
Well, it was time to say goodbye to Islay after 6 days in whisky-heaven.
We had an excellent dinner Thursday night both enjoying a fantastic Islay-steak fillet. After getting an early bedtime we were picked up by Christine just after 8:00 am. No day on Islay without its special distillery so on the way to the airport we went by the defunct and demolished Tallant distillery. There was really nothing to see but again we documented the site and you can look forward to pictures right here on www.awa.dk from there as well.
We got to the airport on time an although we both had suitcases that were too heavy the never ending service on Islay made sure we had no extra charge on the wee plane that took us to Glasgow. Catching our connecting flight in Glasgow was not a problem and when we arrived in Heathrow our connecting BA flight to Copenhagen had left London as expected. Since we knew this beforehand we had purchased tickets with SAS home from London and we tried to get our booking changed to the earlier flight.
Unfortunately that was full and it would have been enormously expensive to switch flights so we checked in our luggage with SAS and CP was told he hand been "naughty" with his shopping by the absolutely lovely girl at check-in because of the overweight of his luggage. Again we were not charged anything for our excessive luggage and could now look forward to about 3½ hours in Heathrow.
Unfortunately the flight to Copenhagen was delayed about 1½ hour so we ended up spending too much time in Heathrow. We did pull through though and finally arrived back in Kastrup Airport.
We were both tired and full of impressions from a wonderful week on Islay. It is definitely not the last time we visit to absolutely stunning island and its inhabitants. We miss Islay and the people and would like to send greetings and thanks to the people of Islay who made our stay simply fantastic.
From Copenhagen, this is GI and CP signing off..
Details

Parent Category: AWA Whisky News
Hits: 11058
fEven though last night ended with a few drams together with a new whisky-friend, Olaf, from Germany at the Duffies bar during the Jam Session, we were both eager to get up and going this morning. Today we changed hotel from Harbour Inn, where everyone has been SO nice and helpful, to Bridgend Hotel in Bridgend – right on the most important crossroads where the road either leads to Port Askaig, Portnahaven or Bowmore/Islay Airport/Port Ellen/Ardbeg.
Christine picked us up at 9:00 and we had booked her the entire day. She had very kindly changed our arrangements with Kilchoman and Bruichladdich distilleries so we had plenty of time for both.
On the way to our first stop of the day, Kilchoman, we ran into Bryan Palmer of The Ileach, who is a bike fanatic. In keeping with our mission for Merlot Tours we stopped and had a wee chat with Bryan leaving him Peter Kobbernagel's business card. He seamed very enthusiastic and would himself write an email to Peter. So it looks as if your bike-fact-finding-mission is completed successfully.
Trough narrow and twisty roads not all of them with a decent surface we made it to Kilchoman Distillery. The manager/owner, Malcolm Rennie, showed us around the smallest distillery we have ever seen. He was passionate about this business and we had a sample of the fresh spirit and another that had matured for two years. The first distillation took place at Kilchoman in 2005 so later this year the first real Scotch's Whisky will be released from Kilchoman. We can only say that we look forward to that because the fresh spirit was very tasty indeed and not at all "Feinty" in any way. Malcolm operates the distillery with his family and the site also features an excellent café where we would have stayed for lunch if we didn't have an appointment at Bruichladdich to keep. The entire experience at Kilchoman was very interesting and we saw the complete process from Barley to maturation. The only thing missing was bottling but that was coming according to Malcolm. Kilchoman gets our highest and best recommendation. Do go visit him if you ever find yourself on Islay and also you can look forward, as always, to pictures and updates on the Kilchoman pages and on our special Islay section coming shortly.
From Kilchoman Christine took us to Bruichladdich where we had a special appointment with CEO Mark Rainier.
Let me start right off by stating that the visit to Bruichladdich topped ALL our other distillery visits during our stay at Islay. Mark is a guy who is passionate about everything whisky: whisky history, whisky making, whisky maturation… You name it; Mark will know everything about it. He gave us the almost complete history of the lost still Octomore where he had researched everything himself. It is a fascinating story which you will soon be able to read right here on the whisky pages.
Mark was practically unstoppable in his passionate retelling of the story of Octomore. He did end the story though and then took us himself on a very special guided tour of Bruichladdich distillery. We saw EVERYTHING! We went through all the steps as at all the other distilleries but this time no explanation about the steps but a continuous involved narrative about the special-ness of Bruichladdich and the way they do things there. Nothing has been changed in the production process since the distillery started in 1881. All the equipment is the same and only a few things have been changed/updated. No high-tech gadgets was found anywhere and we were shown the logs of all the distillations dating back several months to prove Mark's point about the ever changing way the spirit behaves.
At Bruichladdich there's no set cut-off point for the Head to Middle Cut and from Middle Cut to Feints. All is done by eye by the experienced people working at the distillery and careful logs are kept at how long the middle run lasted and at what alcohol percentage the cut started and ended. Of course we saw the mill, the stills, the wash, the wort and Mark also took us to Bruichladdich's experimental warehouse where they to trials with different types of wood and finishes. If there ever was a man passionate about wood it's Mark. Some of the thing he told us about the way the whisky industry as a whole "misinforms" it's customers about the maturation and labelling of their products was eye-opening. We have a score of pictures from the 2½ hours we spent with Mark who was so kind, information and friendly that everything else palled. The only slight problem was his rather annoying dog, Badger, who was very playful and had a nasty habit of biting your hand if you played with him.
Well – just as we said goodbye to Mark and had just been given a wee dram at the Visitors Centre Jim McEwen showed up. He was another of the directors at Bruichladdich and he took us to the Still Manager, Duncan's, office where we were shown the plans for resurrecting the Port Charlotte distillery. We were told that the fate of the project was to be decided next week on a board meeting and that all was ready to go. The only doubt was the name of the "new" distillery but the only suggestion so far is "Port Charlotte".
With that an incredible visit to Bruichladdich ended and Christine took us to a small café next to the distillery where we had lunch and coffee.
The trip continued after lunch to the site of the old Octomore distillery. We drove up there and met Jim who now owns the farm where the distillery used to be. (It closed in 1841). Some of the buildings were still there and pictures of those will be available soon. Jim showed us around his home, his unbelievable filing cabinet full of whisky and also served us a wee dram on his balcony overlooking the bay and Bowmore on the other side of said bay. Again the friendliness and openness of the people of Islay was astonishing. Of course it helps when you are driving around by a well-connected Lady of the Isles but still… Next stop was Port Charlotte where we couldn't get in. We did mange to get a lot of pictures from the outside. From there Christine wanted us to see Portnahaven. And were we in for a pleasant surprise. At the end of everything we came across this incredible picturesque little village situated right on the rocky coast of Islay with a splendid view to Ireland. We spent about an hour's time there enjoying a pint in the beautiful sunshine. Thank you so much Christine for showing us this little warm wonderful spot on this earth.
It was getting late and we still had our entire luggage in the Silver Bullet (Christine's car). We headed off to Bridgend but stopped at Newton and Daill where there also were buildings to photograph that used to be distilleries. At Newton we were again lucky enough to meet the current resident who was ever so friendly and gave us plenty of information about where things used to be 100 or some years ago.
Finally we reached Bridgend where we checked into the very nice and cozy hotel Bridgend. Coincidentally the current B&B right across the road was also a distillery once and you can be sure you will soon be able to find pictures of everything here at AWA.dk.
For now the hour is late. We have had dinner and is now sitting writing in the Cocktail Bar and are soon off to bed.
From Islay: it's GI and CP signing off.
Details

Parent Category: AWA Whisky News
Hits: 10168
Friday:
For once we didn't really have anything we HAD to see or anyplace we HAD to go. So we decided, after an excellent breakfast, to head for Lagavulin and see if we could get some of the pictures we weren't able to get at our first visit. The only slight catch was that we would have to spend over 3 hours at Lagavulin where we had been before.
We boarded the bus heading to Ardbeg in Bridgend without any problems whatsoever and had a good trip all 16 miles to Lagavulin.
We entered the visitors centre and were again greeted by Hazel who kindly gave us permission to wander around the distillery without a guide and take all the photos we wanted. There was just one condition: we weren't allowed into any of the buildings. So we started off wandering and soon found a lot of good shoots and GI also took a small hike up the beach to get a different angle on the distillery.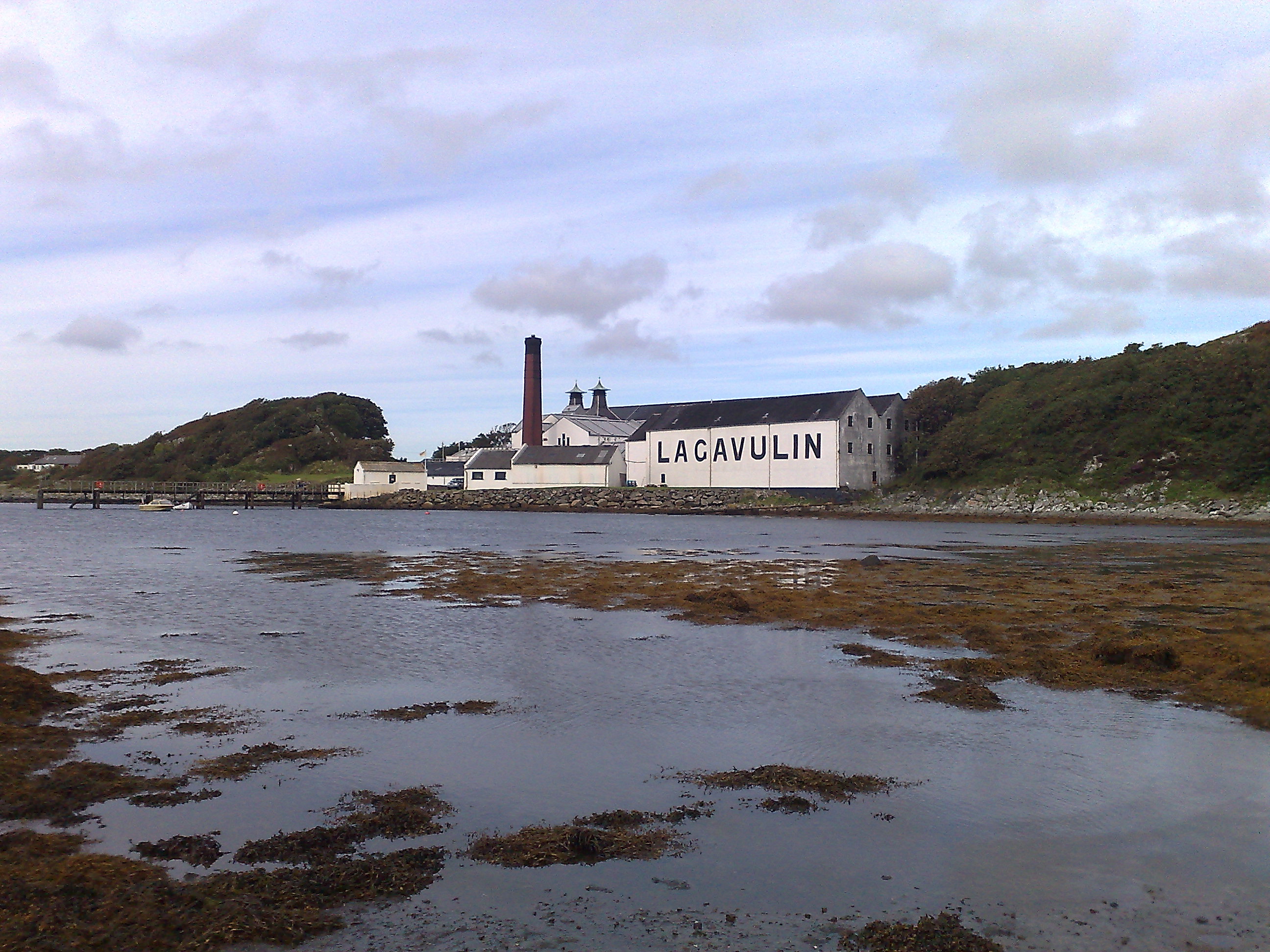 When we were standing outside the Still House a worker was kind enough to allow us to enter the building so we could get decent shots of the stills operating.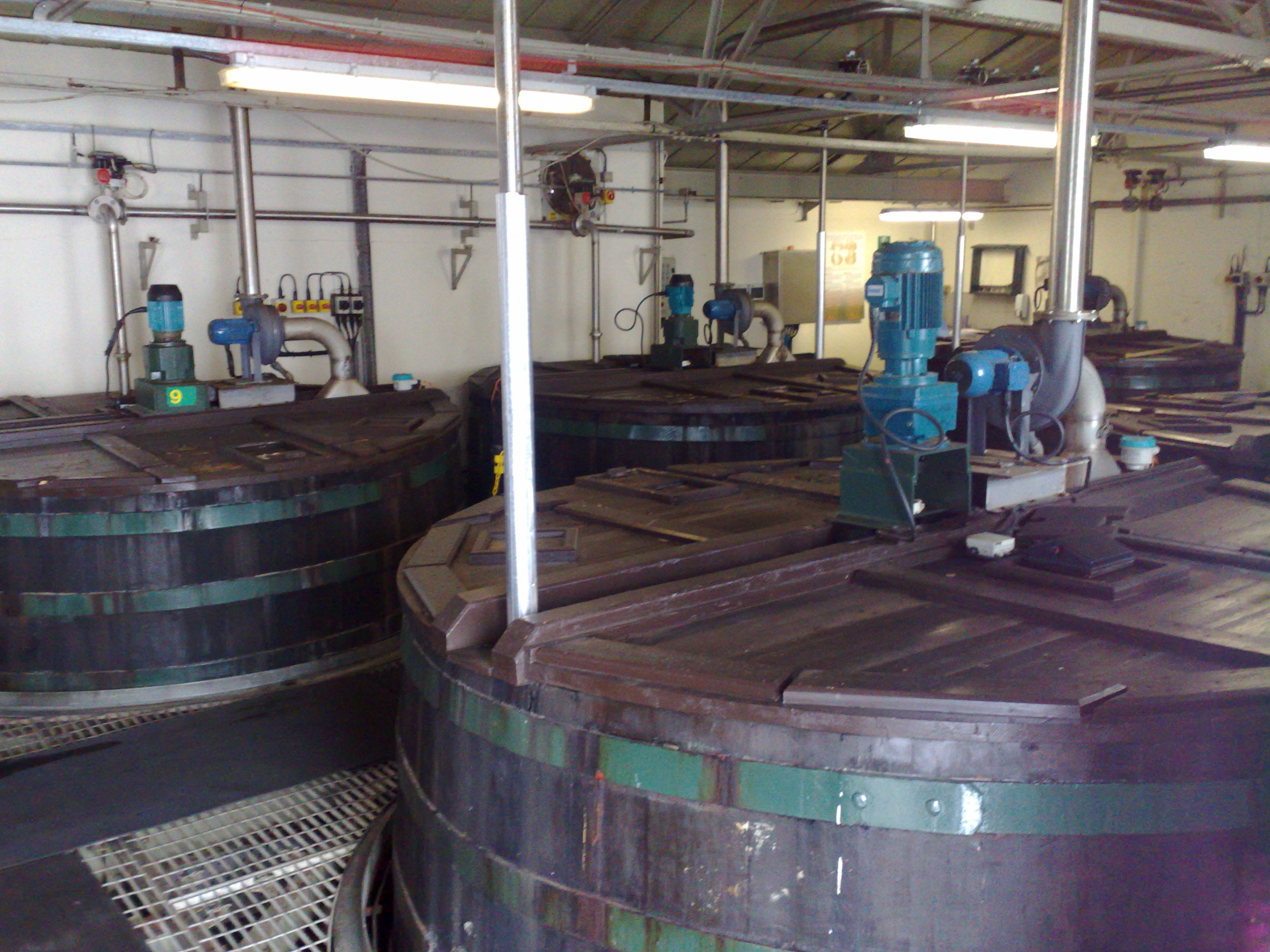 After finishing the photo-shooting we went back to the visitors centre and purchased the now mandatory water jug and pins and sat down for a wee moment to decide what to do next. We had spent about an hour at Lagavulin and had no intentions of staying for another 2 before catching the bus back to Port Ellen. After a quick chat we settled on walking the 1,5 kms to Ardbeg and maybe catch lunch there.
The walk was nice and not too long. Without really being surprised we met The Silver Bullet and Christine on the road to Ardbeg and she stopped her bus to have a wee chat with us and introduced us to her Japanese guests. You can spot Christine miles away by the enthusiastic way she waves at everyone and her never ending good mood seams to spread wherever she goes.
Arriving back at Ardbeg felt a little bit like returning home in some weird way. The wonderful staff at Ardbeg immediately recognized us and asked whether we were having a good time and getting all the information for our website we needed.
We sat down and had an excellent lunch at the Kilm Café at Ardbeg and were treated to a wee dram courtesy of Ardbeg.
Catching the bus back to Port Ellen where we decided to get off was easy and we walked back along the beach to Port Ellen Harbour from the Port Ellen maltings after thoroughly documenting the old still. We quickly discovered a local pub and in we went for a pint and a wee dram. It was nice to see a really local place where all the town's workers gathered to have a pint after getting the day off.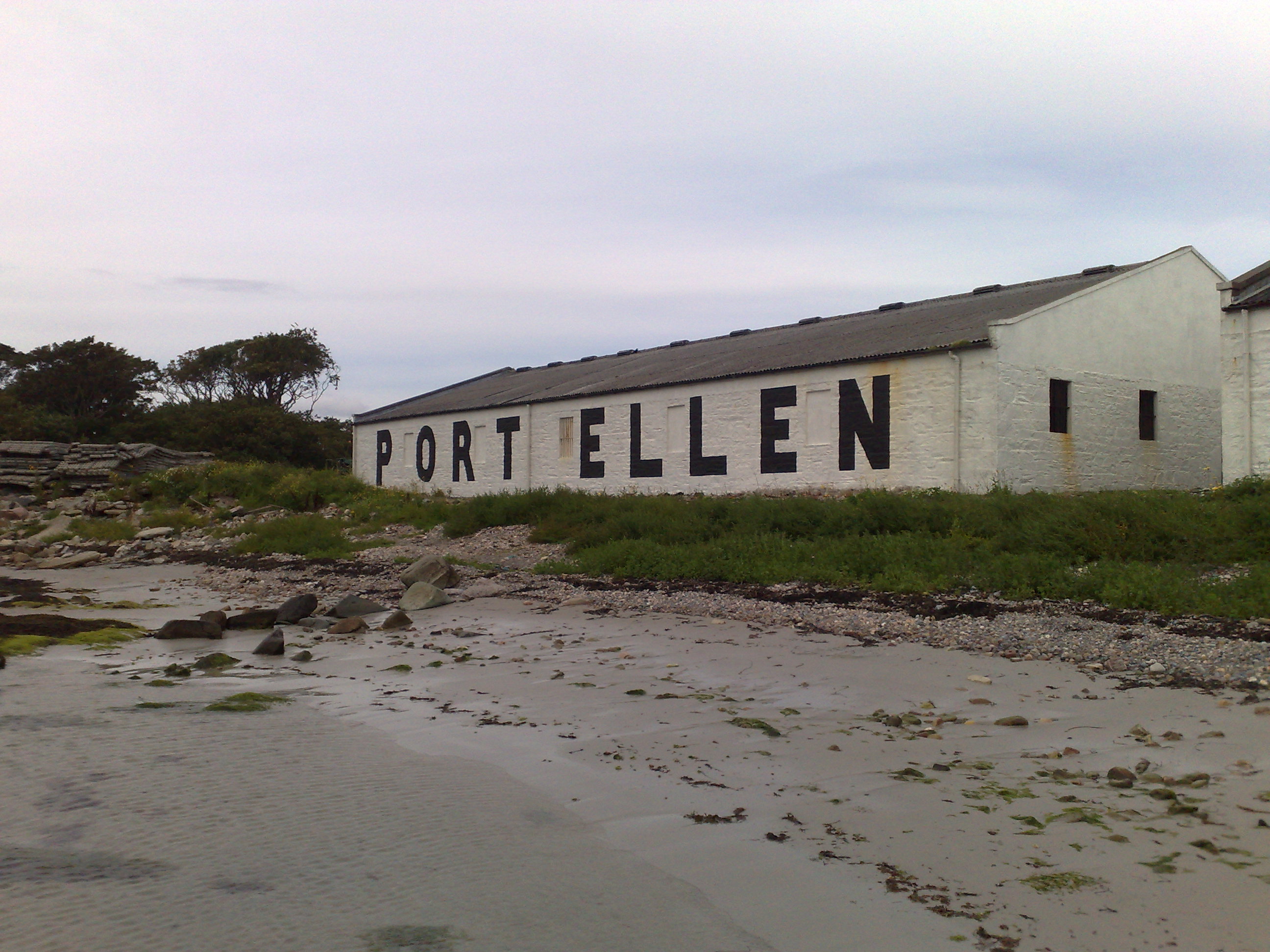 We caught the bus back to Bridgend (with a wee layover in Bowmore) and had the best dinner on our tour: two fantastically tender Islay fillet steaks recommended to us by the Estate Manager, Willis who is now also a very good contact point for Peter at Merlot Tours. Bridgend Hotel can easily be recommended  but do note that there is not really anything to do at Bridgend.
Such ended Friday and we are not looking forward to leaving Islay. We have been so well received and everyone has been so friendly that we would like to stay longer. For sure this is not the last time we visit Islay.
From Islay, this is GI and CP signing off.
Details

Parent Category: AWA Whisky News
Hits: 9982
Last night ended again without us closing Duffies bar so we had a wonderful morning, again enjoying breakfast at our great hotel Harbour Inn.
GI asked the hotel the night before if they could arrange transport for us by taxi to Laphroaig since the bus-schedule was uncoordinated with the distillery tour at 10:15 we were booked into. So after breakfast we went to the reception and asked how they were doing with taxi. Nothing was available but the service level and hospitality of the Harbour Inn knows no boundaries: up came the Hotel Manager and took us in his private car so we could make our appointment at Laphroaig. We cannot thank Harbour Inn enough for all their kindness and hospitality. The hotel is a true gem and we can only give it our highest praise and recommend it to everyone traveling to Islay. Great food, excellent service and a warm, welcoming atmosphere with an out-of-this-world hospitality unmatched by any other hotel I've ever stayed at.
Back to the whisky ?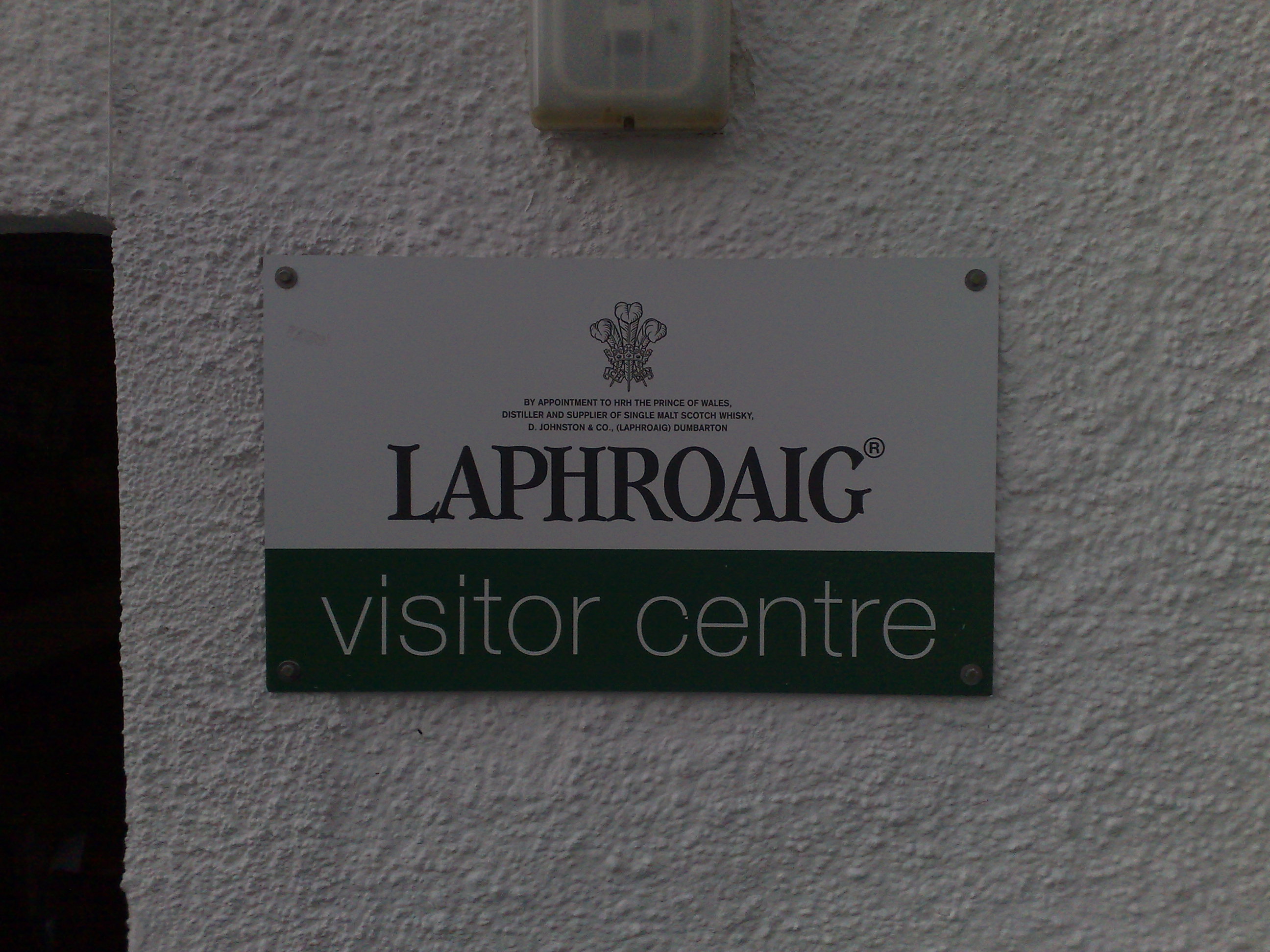 We arrived on time for our tour at Laphroaig and the tour was the best yet. Laphroaig's standard tour lasts 1½ hours where almost all the other still's tours last about 1 hour.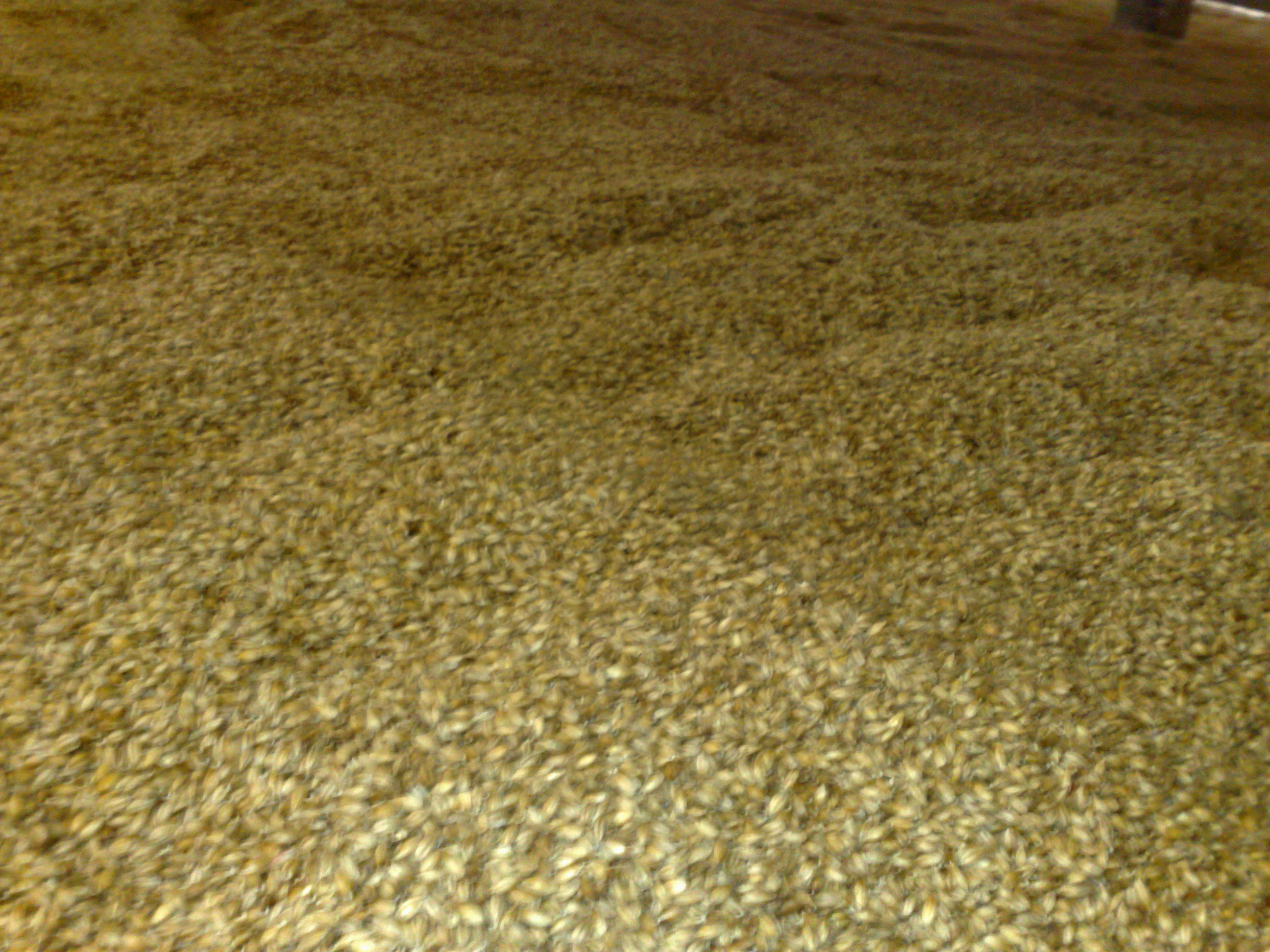 Finally FLOOT MALTING in progress and a kelm operating. Look forward to a lot of great pictures on the Laphroaig pages and in the special Islay section to come. Out tour guide, David Adams, was an experienced guy that had worked at the distillery since 1977. He could tell us practically everything and we enjoyed the tour tremendously. After asking both David and the girl at the visitors centre (whose name we never did catch) GI managed to charm the girl with his "big brown puppy-dog eyes" to allow us a wee look into warehouse #1. And again: getting into the warehouses around the different distilleries is something not to be missed. Unfortunately it is not really allowed due to Customs & Excise regulations (no duty has been paid on the spirit yet) but that is the true way of ending a tour of a distillery. We had a quick peek and took some more pictures that you can look forward to. We saw HRH Price Charles's very own cask of Laphroaig and that is documented as well. The dram at the end of the tour was the Quarter Cask and we enjoyed it at the Friends of Laphroaig Lounge at the distillery.
At the same time as the dram we were presented with our certificate and a wee miniature of Laphroaig that we, as FOL, had picked up our rent due. We also got to sample a special "only at the distillery" bottling and needles to say that found its way into both of our suitcases. CP also purchased GI's birthday present at the shop together with rugby shirts, pins, cups, jugs and a lot more merchandise. We had an absolutely fantastic time and whether this visit to Laphroaig is now the highlight of the tour or whether Ardbeg remains as champ is yet to be decided. Certainly the hospitality and friendliness of Ardbeg was more than matched by Laphroaig.
After having planted the Danish flag at our very own Friends of Laphroaig "Square foot of Islay" it was time to catch the bus back Bowmore where we had booked at tour at the Bowmore distillery at 15:00. There was perfect timing with the bus schedule and out appointment so we had time to put all our shopping at the room before we went to Bowmore.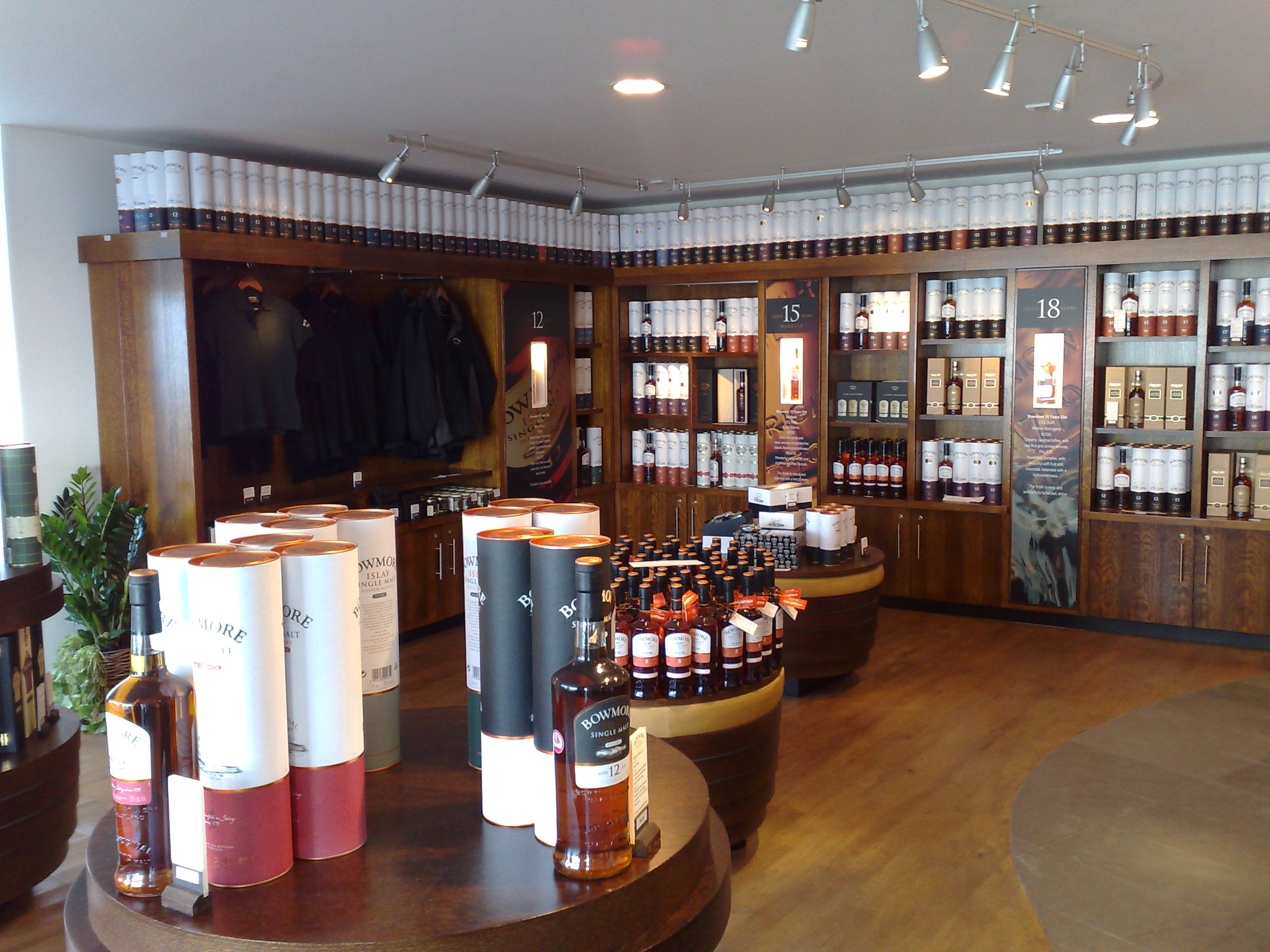 We had low expectations for Bowmore since we were unsuccessful at booking at Master Craft tour but all our expectations were put to shame! Our very charming and friendly guide, Heather, only had the two of us on the tour and she soon realized that we knew the whisky-making process and could avoid giving us information we already had. She concentrated on all the nerdy information we wanted such as size of the different stills, wash and so on, and GI and CP got to try our grading at the Floor Malting. So in 12 years time look for Bowmore whisky that was partially made by www.awa.dk. We were not allowed to use flash photography at Bowmore but lovely Heather was kindly blind a few times as you will be able to tell from some of the pictures coming to the Bowmore pages and to the special Islay section. At Bowmore distillery they know that all tours should include a warehouse-visit so it's a standard part of their tour. Unfortunately all the casks maturing were behind glass so we didn't have the chance to wonder around and look for ourselves. But Heather had one another ace up her sleeve: someone had left freshly distilled un-matured sprit at the warehouse so we got to sample that and it was frankly quite good! Such ended the tour at Bowmore and we went for a wee dram and a taste of the standard (heart) of Bowmore bottling – the 12 yo. But Heather had not run out of aces. She asked whether there were any other of the Bowmore expressions we wanted to sample and we both agreed that the "Distillery Only 8 yo" bottling was interesting. She couldn't find that particular bottle so we ended up with a 12 yo, a 15 yo Darkest, a 16 yo Port finish and an 18 yo. Oh, and of course an 8 yo too because Heather just went downstairs and picked up another fresh bottle for us to try. So suddenly we had a wee tasting at Bowmore – THANK YOU HEATHER. GI liked the 16 yo Port best and CP fell for the 15 yo Darkest. After having finished the tasting we went and spend some money at the Bowmore visitors centre and we shall not tell all here. Just that CP is looking forward to coming back to work and showing off his brand new Bowmore Distillery pc carrying bag.
Tonight we are again eating at the Lochside Hotel. Last night they disappointed us with a mediocre meal but we already have a table booked and tonight is "Jam Session" night at the Lochside so we shall enjoy music after the dinner.
Tomorrow we are switching hotel to the BridEnd Hotel trying that out for Merlot Tours too. Christine Logan is picking us up and then the trip will continue to Bruichladdich, Kilchoman and Port Charlotte distilleries.
This is GI and CP signing off from Islay…