Sunday morning we met up at Copenhagen airport at 9:30am CET.
Check-in was completed without a glitch and we headed stright for the Diners Club lounge, where CP's brother also turned up. He was going to a Softball tournament in Sofia, Bulgaria, where he is umpireing.
The flight for Heathrow was delayed because of fog in London but we made reather good time and landed not too late in Heathrow to catch our connecting flight to Glasgow.
As it turned out that flight was delayed as well and not suddle fears about maybe missing the plane to Islay were starting to kreep up on us. But luckily we again made pretty good time flying to Glasgow and we caught the plane to Islay without any problems.
Finally: sitting in a very small SAAB 340 turbo-prorp airplane we were on the last leg to whisky-heaven. CP had the best seat in the house as Islay came into wiew: first Ardbeg, then Lagavulin and last, but not least, Laphroig appeared on the lovely coast-line, all bathed in wonderful sunshine.
Out fantastic guide Christine met us at Islay international airport and drove os to Bowmore (whis is pronounced Bo-More without the "W" by the way) and we checked in to the tremendously cozy Harbour Inn hotel situated right on the coast 50 meters from Bowmore distillery.
After having dropped all out baggage in the room we went to the Lochside Hotel & Restaurant to have dinner. An excellent 3-course meal followed and we decided to move from the restaurant to the bar. That turned out to be a good decision since wet met a bunch of very nice people from South-Africa. Mark, Marko, Joe(sephine) and Greg drank with us the rest of the evering and since it was Marko's birthday after midnight, we all went to their rented cottage to have a wee glas of Champagne.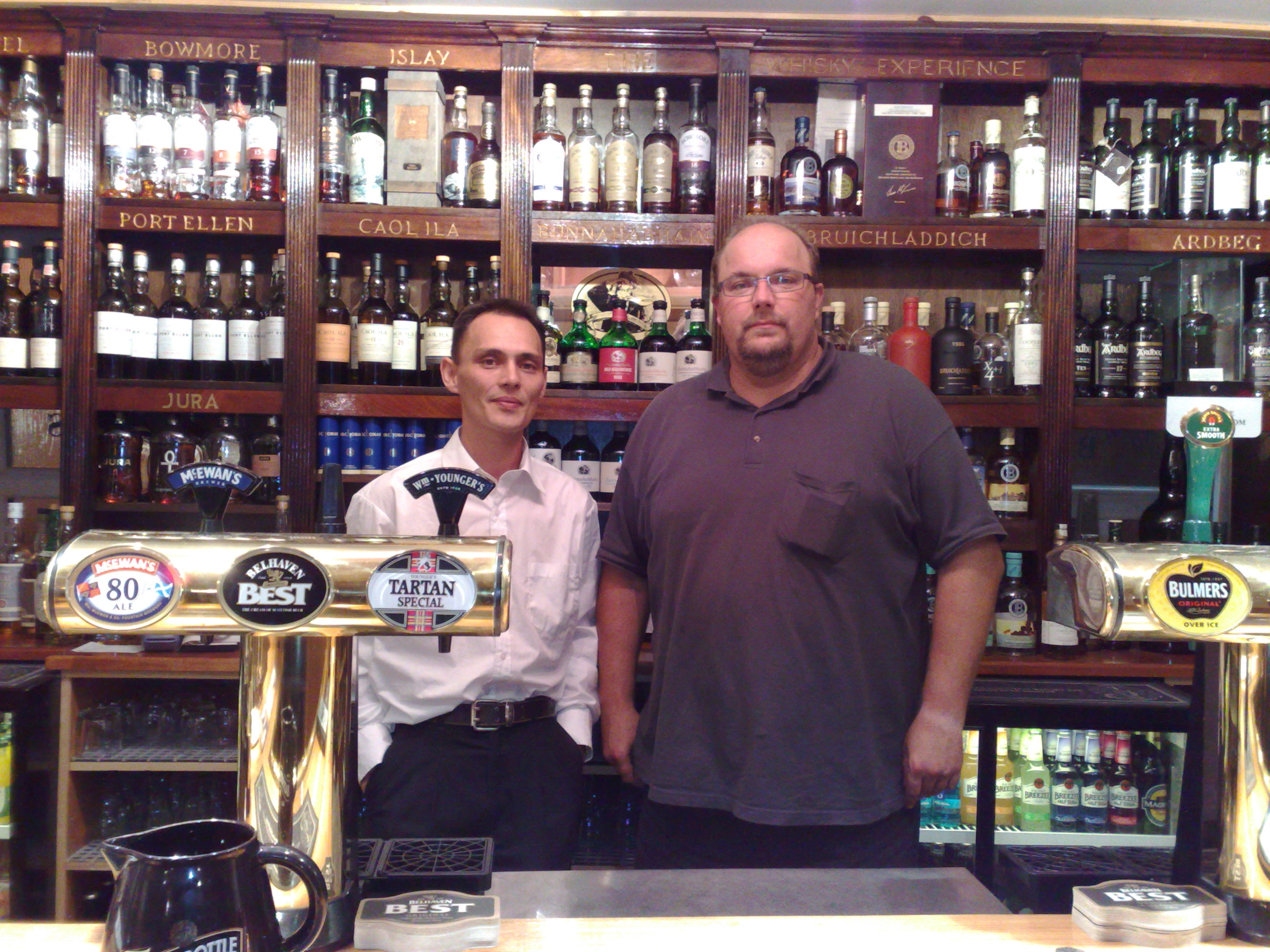 A long, long day finally ended and we went to sleep at around midnight.
From Islay, it's GI and CP signing off.