Details

Parent Category: AWA Whisky News
Created:

01 September 2008

Last Updated:

25 August 2012

Published:

01 September 2008

Hits:

9834
After a full and satisfying breakfast our fantastic guide Christine picked us up right outside the hotel at just after 9:00 am. We were joined by Joe and Marko from the group of very nice South Africans we met Sunday night since they were not too keen on playing golf as was Greg's and Mark's plans.

The journey took us straight to Caol Ila distillery where we joined a 9:30 tour that was rather late because of us. But Mark (the guide at Coal Ila) were an excellent host and had no problem waiting for us while we met the Managing Director (Billy) and took some pictures of him.
The tour started and whisky-production being whisky-production we knew all about the different things Mark was showing us. We might not have been listening too much but we had a great time and took a lot of pictures. We were shown round the stills production stages and they were running full-speed production while we were there. (look forward to pictures).

The tour ended wihtout us seeing the Maturation Warehouses but a kind request was almost immediately approved and after having tasted the new 8 yo unpeated malt and the "only available at the distillery" bottlings, Mark took us to the maturation warehouse. A little disappointingly there was almost no Caol Ila cask matureing since the warehouse was almost full of Lagavulin Casks slowly maturing to perfection. But we succeeded in finding at least one cask of Caol Ila and we have the photografic documentation to proove it :-)
Shopping at Caol Ila was a must and we're bringing home the "only available at the distillery" bottling (of course) and an assortment of glasware and polo-shirts.
Having had the extra and not-part-of-the-tour tour of the warehouse we were late going to our next destination:
Bunnahabhain Distillery. Hence we missed the guided tour but we still managed to take som were good pictures and we met Managing Director John who graciously also modelled for pictures.
Of course we shopped at Bunnahabhain too although we did not this time buy a complete bottle. None were not commercially available elsewhere so we settled for a wee miniature bottle of Black Bottle (Bunnahabhain's excellent blend) and another shirt and water jug.
Christine took us to the Bunnahabhain's Visitor Centre where we had coffee and a few minutes to relax. GI took the time to walk around a got some fantastic shots of the Still and surrounding area.
You can se some of the pictures on the Bunnahabhain pages

Finished at Bunnahabhain, Christine drove us to Finlaggan.
Unlike what most people would think,  at least in Scandinavia, Finalaggan is NOT another distillery. It was the seat of government for all of western Scotland from at least the middle ages and up to about the 16th century. It  was very different from whisky-touring but not the least bit less interesseting.
From Finlaggan the trip continued to Lossit where GI knew there had been a distillery once. We managed to find the site at Lossit Kennels and we were extremely lucky, that the current resident Donald James was in. Christine knew him, of course, at after introductions he told us all he knew about the lost distillery of Lossit. He had done a fair amount of research and could show us a drawing of what the site used to be like.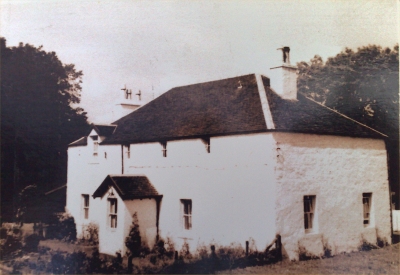 He showed us some of the things still left from that time and was ever so kind to a bunch of people suddenly and unexpectantly showing up in his courtyard.

From there we tried to find the lost Scarrebus distillery but there our luch had run out. We managed to find Scarrebus Farm but wheter that was the actual site of the still or not we had no way of finding out. We did take a picture of Scarrebus Farm and will of course present that as the actual distillery :-)

From there we went back to Bowmore and crashed at the hotel, walked around town, shopped at the supermarket, gathered information for Merlot Tours. We need to thank Peter Kobbernagel from Merlot Tours for making the Hotel reservations and we will bring him a score of information about Islay and about cykling here.
The evening is not over by far, and we have just met up with our South African friends again who are celebrating Marko's 35th birthday today. How the night will end we do not know, but tune in again tomorrow and find out.
From Islay, it's GI and CP signing off.