Kilchoman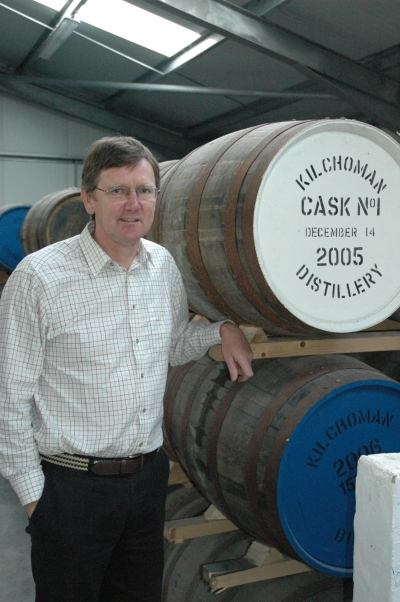 Kilchoman Tours, Opening Hours and Contact
April to October:
Monday to Saturday - 10:00 - 17:00.
Tours at 11:00 and 15:00
Café open 10:00 - 17:00
November to March
Monday to Friday - 10:00 - 17:00
Tours at 11:00 and 15:00
Café open 10:00 - 17:00
We recommend that groups of ten and over contact the distillery to arrange tours/lunch.
Current owner: Privately owned
Distillery Manager: Malcolm Rennie
This email address is being protected from spambots. You need JavaScript enabled to view it.
www.kilchomandistillery.com
+ 44 (0) 1496 850011
+ 44 (0) 1496 850156
Kilchoman on Google Streetview
-
Source www.bbr.com :

 Kilchoman Distillery, Islay
Seven. It's the one thing everyone knows about Islay. Islay has seven working whisky distilleries. Well now it's time to make that eight.
Kilchoman, (pronounced Kilhoman) was established in 2005, as a farm distillery and is the first new distillery to be built on Islay for 124 years. Kilchoman is one of the smallest distilleries in Scotland with an annual production of 90,000 litres of alcohol. It is the only inland distillery on the Island and is one of only six distilleries in Scotland to have its own floor maltings.
However the key difference at Kilchoman is that the barley is grown on the farm at the distillery, whereas other distilleries purchase barley from around the country.
Kilchoman History and Distillery Information
Kilchoman distillery is the latest of the famous Islay distilleries and is a so called farm distillery. Kilchoman distillery is located on the west side of Islay, close to the Atlantic Ocean and Loch Gorm. The distillery, which began production in June 2005, was the first to be built on the island of Islay in 124 years. Kilchoman's whisky is completely produced on site – from barley fields to bottling – at Rockside Farm.
Bottlings
At the moment the details of the whiskies age releases is unknown, there is however a futures offer which will be bottled in 2011 and will be a 5 yr old. More information on this futures offer is available on the Kilchoman website as a downloadable PDF file: Kilchoman Futures Leaflet
KILCHOMAN DISTILLERY • VISITOR CENTRE & CAFE
May, June & September • Monday to Saturday • 10:00 to 17:30 • Tours at 11:00 and 15:00
July & August • Open Daily • 10:00 to 17:30 • Tours at 11:00 and 15:00
October to December • Monday to Friday • 10:00 to 17:30 • Tours at 11:00 and 15:00
Tel: 01496 850011 • Fax: 01496 850156
e-mail: This email address is being protected from spambots. You need JavaScript enabled to view it. This e-mail address is being protected from spambots. You need JavaScript enabled to view it • web: www.kilchomandistillery.com
Kilchoman Distillery to Auction a Piece of History from Whisky Cask No.1
News Release 06.05.09
With its very first single malt being launched on 9th September this year, Kilchoman Distillery on the western isle of Islay is giving water of life connoisseurs an opportunity of a whisky lifetime.
On the 28th May, Kilchoman Distillery will auction one bottle of the three year old malt out of the very first cask that was filled in December 2005.  The limited edition bottle will have a unique design and will be the only one of its kind.  It is set to be a dream come true for whisky collectors and fans of Kilchoman. 
The auction takes place at Kilchoman Distillery's Open Day on Thursday 28th May at 12.30pm, during Feis Ile, the Islay Festival of Malt & Music.  All proceeds of the auction will go to local Islay charities.
Anthony Wills, Founder & Managing Director of Kilchoman Distillery said: "We are looking forward to welcoming people from all over the world through the doors of Kilchoman Distillery during the festival.  We have a very exciting year ahead, making history in the whisky industry and across the world."
He added: "We are delighted to auction the limited edition bottle of our very first single malt to one lucky person. It is an excellent opportunity to take home a piece of Kilchoman History and we hope it will raise a considerable amount of money for local charities."
The much anticipated single malt has been getting seals of approval from a very young age.  The one month old Kilchoman spirit has received a remarkable score of 94 out of 100 in Jim Murray's Whisky Bible 2008, rating it as a "superstar whisky that gives us all a reason to live!" In April 2009, the two year old spirit sold out on the first day of the Limburg Whisky Fair in Germany. 
Kilchoman Distillery prides itself in taking whisky back to its roots and is the first distillery to be built on Islay for 124 years.  A visit to Kilchoman Distillery gives everyone the opportunity to see all that is best in the grass-roots traditions of malt whisky distilling – from barley to bottle.  The distillery location, Rockside Farm is said to grow the best malting barley on the island.
Kilchoman Distillery is accepting telephone and email bids 30 minutes prior to the auction.  Please telephone 01496 850011 or email This email address is being protected from spambots. You need JavaScript enabled to view it. This e-mail address is being protected from spambots. You need JavaScript enabled to view it .   For more information on Kilchoman Distillery, announcements and events please visit www.kilchomandistillery.com. 
…ends…
For more information please contact:
Pauline Foster
Pure Shores PR
01631 569 651
0779157 3247
This email address is being protected from spambots. You need JavaScript enabled to view it. This e-mail address is being protected from spambots. You need JavaScript enabled to view it
Note to Editors:
Kilchoman Distillery at Rockside Farm is situated near the hamlet of Kilchoman on the west coast of Islay.  
Feis Ile runs from 23rd to 31st May and is part of Homecoming Scotland 2009's Whisky Month.  www.homecomingscotland2009.com/whiskymonth.
The Visitor Centre has an attractive shop and cosy café.  Distillery tours can be arranged for groups of 8 or more.  The centre is open Monday to Saturday (April to October) from 10.00am to 5.00pm.
Image of cask number one is attached.

Kilchoman Facts:
Kilchoman's first single malt will be released on 9th September 2009.   
Kilchoman is one of the smallest distilleries in Scotland with an annual production of 90,000 litres of alcohol.
Kilchoman is one of only six distilleries to carry out traditional floor maltings, but the key difference at Kilchoman is that the barley is grown on the farm at the distillery, whereas other distilleries purchase barley from around the country.
100 tonnes of malting barley is grown and malted at the distillery representing 30% of their annual production.   The balance of malt is purchased from the Port Ellen Maltings on the island.
80% of Kilchoman's annual production is filled into a combination of fresh bourbon barrels from Buffalo Trace Distillery, Kentucky and refill casks and 20% into fresh oloroso sherry butts.
Pauline Foster
Pure Shores PR
01631 569 651
07791573247
www.pureshorespr.co.uk
This email address is being protected from spambots. You need JavaScript enabled to view it. This e-mail address is being protected from spambots. You need JavaScript enabled to view it
Kilchoman (pronounced kilhoman) is a farm distillery and the first to be built on Islay for 124 years.   Kilchoman gives everyone the opportunity to see all that is best in the grass-roots traditions of malt whisky distilling - from barley to bottling.
Kilchoman Distillery is situated at Rockside Farm on the very western coast of the island of Islay, close to the celebrated Machir Bay with its spectacular sandy beach and rocky inlets…..Kilchoman is now officially the most westerly distillery in Scotland.