Octomore Distillery, Established 1816
This farm-scale distillery on an ancient site behind Port Charlotte was run from 1816 until 1840 by the Montgomery family and licenced to George Montgomery. It appears to have operated as a single-still distillery with a wash still of 60 gallons volume (272 litres) with 998 gallons (4,530 litres) of spirit produced in 1817-18, this rose to 3,551 gallons (16,121 litres) in 1826-7. Little is known about its operation until the death of George and his brother around 1840, when it fell into disrepair and the lease was eventually relinquished to the laird, James Morrison in 1854 for 150 pounds. Buildings in the farm steading remain today, although some have fallen down and others have recently been converted into holiday cottages, so guests could well be sleeping with the spirits of 160 years ago! No detailed plans of the distillery buildings have yet come to life.
Today Octomore is a bed and breakfast (or named whisky by bruichladdich very peated single malt.)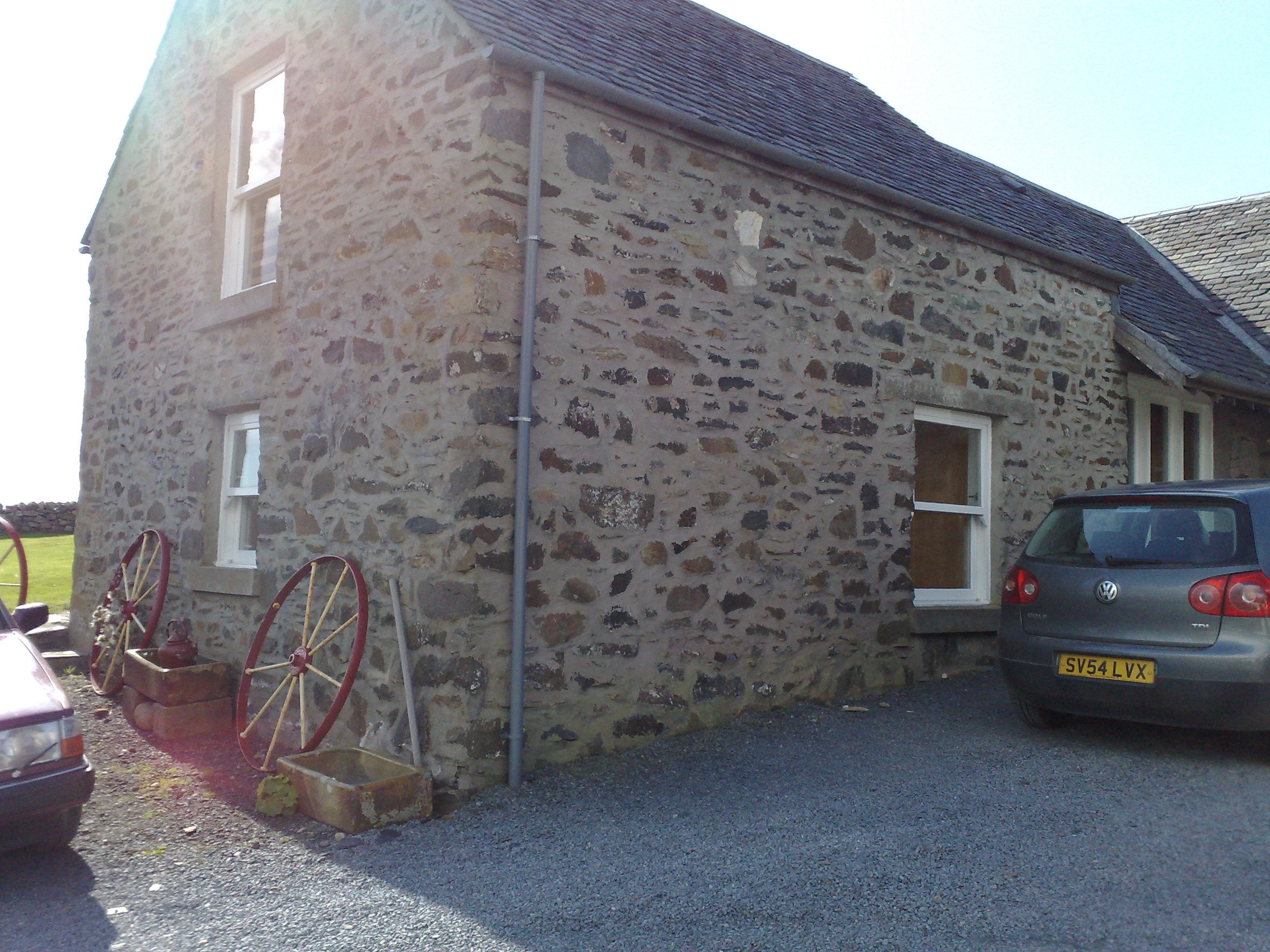 From
http://www.bruichladdich.com/octomore2008.htm
OCTOMORE of OCTOMORE
In a wood in Bridgend, tucked away off the road, there is a damp, verdant, forgotten graveyard. The gravestones
covered in ivy and stone slabs over grown with moss and grass. Near a stone monument encrusted in vibrant orange
lichen there is a grave. Scrape away the slab's grass covering, and there is the engraved name: George Montgomery,
Distiller at Octomore.
Octomore farm sits on a commanding position on a hill over looking the village of Port Charlotte near Bruichladdich.
There are dramatic views over the whole island, away to the Northern Irish coast twenty-five miles away, around to the
Paps of Jura. A peaceful place with a tragic story.
The name originates around 1300, from the division of the medieval davoch - or common ground - into eight
workable, self-sustaining units. In this case the 'Large Eighth'. The large eight was divided in to three tenancies lower,
middle and upper.
It is here that Dirty Dotty's Well, James Brown's invigorating spring is found, producing the crystal clear water
emerging from 1.8 billion year old Gneiss rock that we use at bottling to reduce from cask strength to 46%. Once there
was also a distillery here.
John Montgomery took over the middle Octomore tenancy around 1815. He had three sons – George, William, and
Alexander. The younger brothers, William and Alexander, farmed their father's previous farm tenancy near by.
In 1816 John's eldest son, George, built a small distillery on the farm along with John Macvorran, a fifteen year old lad
(probably George's brother-in-law) from the neighbouring lower Octomore tenancy, whose father had just died. John
Montgomery, his son George and young John MacVorran became co-partners in Octomore Distillery. It was to be a
short-lived, tragic story of sibling rivalry, stubbornness, hunger and death.
The distillery was a small scale set up, probably only a single still operation, which had a capacity of a mere 270 litres,
not much more than a hogshead. It appears to have been scaled to use the two Octomore tenancies - fifty acres - of
Octomore barley. In it's second year, 1817- 1818, it produced just 4,491litres or eighteen hogsheads.

A decade later, by 1826-1827, the distillery produced about 65 hogsheads which was clearly not going to make them
rich. About then, 1830 or so, John Montgomery died and it all started to go pair-shaped – big time.
The distillery business was now in George's name. Then three years later in 1833, he too dropped dead at the age of
only 44. His 12 year old son Donald was his heir – but heir of what?
George's younger brother, William, claimed the tenancy of his father's farm, and so the distillery. But the distilling
business was in George's name, and now belonged to the adolescent Donald. Or did it? William and Alexander
believed their father had a third share and they were entitled to it and muscled their way in.
By 1839 matters had got out of hand. There was 'a misunderstanding' between William, Alexander, Donald and John
MacVorran about the running of the business as well as 'several other transactions relating to our accounts'. Finally,
on 28th December 1839, it was agreed that arbitration should be sought.
Consequently, eight months later on 7th August 1840, in order to 'effect a complete settlement of all matters of a
doubtful nature amongst us and to prevent litigation', the three Montgomeries – the two brothers and their young
cousin - again sought arbitration, but this time over John's will.
Donald clearly had the right to his father George's share of the business. William and Alexander claimed their father
John's third share. But In the days of prima genitor, had John already given it to George, who after all had put in all
the hard work?
We don't know the result of this adjudication. Clearly no satisfactory resolution was reached. A stalemate – 'it may be
your distilling business, but it's my land' – Intransigence, envy, bloody mindedness meant the distillery shutdown in the
autumn of 1840, just twenty four years after started.
Within a few months, twenty year old Donald married an older Octomore girl, Ann Campbell, and with his young
siblings in tow he seems to have taken the money and run, emigrating to Simcoe County, Ontario. There was nothing
left for him at Octomore.
At this time there were twenty-seven Montgomerys living at Octomore out of 175 souls in 30 houses. Small pox had
been contained, and together with the mild climate and the relative land fertility (compared to other Hebridean islands)
the Island's population had exploded from 5,000 in 1800 to 15,600 in 1841. Clearly this was unsustainable; the people
were living on a knife edge. For the remaining Montgomerys things were about to go from bad to worse.
Farming had always been tough in the Hebrides. With such rapid population growth and the lack of good quality
farming land, a monoculture soon developed based on the potato. It yielded the highest amount of sustenance per
square yard in the impoverished, sandy soils. And then the potato blight struck in 1846, lasting a decade.
Alexander, with nothing to keep him, emigrated to Ontario in 1848.
In 1849, the island's benevolent landlord Sir Walter Campbell, with greatly reduced farm rental income, went bankrupt.
Islay was in administration for four years as no buyer could be found. Eventually Charles Morisson bought the island at
a reduced price.
Morisson was keen to regain control of Octomore, now derelict and in 'great disrepair' fourteen years after the
distillery had closed. Octomore was now home to a 'mere' 51 people in 12 houses, a third of population from just a
decade earlier. William, now 61, a widower, was 'starving'. With his three sons and a daughter, they were the only
Montgomerys left out of twenty-seven. William refused to relinquish the tenancy claiming he was owed money from
Donald and compensation for the distillery. John MacVorran, now a forty year old 'labourer', supported the claim. But
there was to be one final twist to the tale.
Upon examining the Octomore lease it became clear that after all this time, bitterness and sorrow, the distillery had
been illegally built. No permission was sought or given, and according to the terms of the tenancy any buildings
erected belonged the landlord any way. There had never been anything to bequeath, nothing to inherit.
Despite this, in 1854 Morrison agreed to a pay off, the sum the equivalent of £9,782 in today's money, just if William
would agree to relinquish the tenancy. He promptly emigrated to Ontario. The Montgomerys had left Islay for good.
Today there are just 5 souls in one house at Octomore. You can even stay in the old distillery buildings where this sad
story played out: www.octomore.co.uk Octomore the whisky, was no more.
We had the idea of distilling the most heavily peated whisky the world has ever seen in 2002. It started out as a
philosophical discussion: would the spirit from Bruichladdich's tall-necked stills be as elegant, fruity and floral if we
used an exceptionally heavy peated barley – like the most heavily peated ever? Now we know.
Bruichladdich's tall, narrow-necked stills produced a remarkably unique spirit: those stills, run so slowly the condensers
weren't even needed, have produced an exceptional Islay hybrid: extraordinarily pure peat aroma on top of an
incredibly refined spirit, devoid of the medicinal flavours associated with heavily peated whiskies. A totally new Islay
experience.
Now in 2008 we know the full story of Octomore. We know the distillery was built to use the barley grown on
Octomore farm, both John Montgomery's middle tenancy and the teenager John Macvorran's lower tenancy. In these
fields west of the Port Charlotte to Bruichladdich road, barley was grown for distillation again for the first time since
1839. The barley was peated to 80 ppm and distilled in 2008 as Octomore, the heaviest peated whisky in the world.
For the first time in 169 years, Octomore whisky is once again made from Octomore barley.
To celebrate, 400 cases of 2008 futures are available from this historic distillation.
---

Octomore
 
---
Location :
Scotland, Islay , PA48
Region :
Islay
Country :
Scotland
Type :
Unknown
Distillery : 
Octomore distillery
(Now you will find Accommodation (Up to 6 + 6 people.)
NB: No paved road...
GPS: Latitude 55.7457 North - 6.3865 West.
Founded :
1824
Owner :
The Montgomery familie. (The still is dismalted. The place now belongs to James Brown)
Producer : 
-
Water :
Octomore
Remark :
Not much information regarding Octomore is available:
We will bring information below, kindly given to us in person by Mark Reynier (Bruichladdich).
Though he said that he yesterday (3rd of Sept. 2008) that Bruichladdich just release some information on the Bruichladdich website...
You can read some of the history of Octomore on the Bruichladdich website.
Octomore spring supplies Bruichladdich with water to reduce the strength of Bruichladdich bottlings. Different from other watersources the Octomore spring water is more soft and clear and not so peaty as other watersources.
Remark from 1998 :

Bruichladdich may release the most peated whisky ever named Octomore...

2010 and so it is: ..
---
| | |
| --- | --- |
| LINKS.......... | to official Octomore or related web pages. |
| URL : | http://www.octomore.co.uk not the distillery but accomendation (Since the destillery is not there anymore.) |