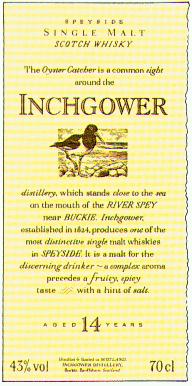 ---
INCHGOWER.
---
Location :
Buckie, Banffshire. Grampian Region.
Country :
Scotch
Type :
Highland Speyside
Distillery :
United Distilers plc. : \L\1uinness plc & DCL)
Inchgower Distillery, Buckie, Banffshire, Scotland.
Founded
1871 and expanded in 1966.
Age :
12 / 14 Years Old
Vol :
40% / 43%
Water :
Unknown (Buckie/River Spey ?)
Remark :
Price :
(in Danish kr. 70cl. : ?,- )
Testet : Yes / No (If Yes, comments below.)
Words from Michael Jackson :
Inchgower lies near the fishing town of Buckle, and its whisky is less of 3 Speyside malt in character than a coastal one.
To the palate expecting a more flowery, elegant Speyside malt, this one can seem assertive, or even astringent, in its saltiness. With familiarity, that can
become addictive. A lovely, sustaining dram after a stroll by the sea or a day's fishing. An earlier 12-year-old was slightly sweeter and fractionally more sherryish than the newer 14 year-old. which has more distillery character. The Inchgower distillery was built in 1871. and expanded in 1966.
House style Dry, salty. Restorative or aperitif.

---
---
AWA - Alternative Whisky Academy is a private, none-commercial, no-profit, none-selling whisky society.
| | | |
| --- | --- | --- |
| Site made by | | |