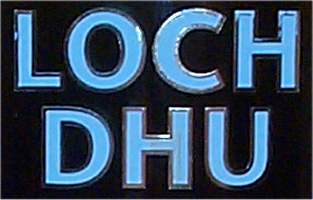 ---
Loch Dhu - The Black Whisky
---
Location :
Speyside - Mannochmore - Sited next to Glenlossie at Thomshill on an unclassified road to the west of the A941, two miles south of Elgin.
Region :
Speyside Elgin Moray
Country :
Scotland
Type :
Single
Distillery :
Mannochmore Distillery
Birnie, Elgin, Morayshire IV30 3SS
Mannochmore - Scotland
Mannochmore Distillery Phone : +44 01343-860331
Fax: +44 01343-860302
North East Scotland Scotland
Founded :
1971
Owner :
?
Producer :
Mannochmore Distillery
Water :
The Bardon Burn.
Remark :

Loch Dhu :

Loch Dhu is a fine malt. Patiently rested in charred sweet oak cask to create a whisky as black as night.
With a rich velvety taste. Savour the smooth. Intense flavour and discover hidden complexities in this unique black whisky.
(Source the back-label)

Here's a little funster from a funfaq :
Q: What to do with the Loch Dhu?
A: Word has it you can do the Dhu in the dumpster.

From Happyhours.com :
Mannochmore, Scotland - Loch Dhu Black Whisky, is an extraordinary single malt scotch. This 10-year-old expression is distilled in Mannochmore, which lies in the heart of Scotland's "Speyside" region, and imported by New York's Schieffelin & Somerset Company.
Loch Dhu, which means "Black Lake" in Gaelic, is aged in special, double-charred oak casks. Charring the casks twice, enhances Loch Dhu's distinct black color, and its smooth, slightly sweet flavor.
Look for a slightly smoky nose with clean layered aromas of sweet malts and notes of ripe fruit and honey. The whisky has a dry, balanced and complex finish, that is sure to please even the most jaded scotch lover.

From the Whisky pilot by Uniqum Systems :
The Mannochmore Distillery was built in 1971 on the same 25 acre : \L\10 hectare) site as the older Glenlossie : \L\1876).
Mannochmore does not utilise a purifier between the lyne arm and condenser as does Glenlossie.
Mothballed in 1985, but re-opened in 1989. It takes its water from the the Bardon Burn high up on Mannochmore hills.
It is situated next to Glenlossie at Thomshill on an unclassified road to the west of the A941, two miles south of Elgin.
Not often available as a single, Mannochmore is important to a number of blends, including Haig.

---
Loch Dhu Bottlings
---
Loch Dhu
The Black Whisky
Age :
10 years old.
Vol :
40%
Type :
Single Malt - scotch
Price :
Whiskywizard.de Die letzten Flaschen vom Mannochmore Loch Dhu Black Malt: 1,0 ltr.-Abfüllung nur : 94,90 DM
Taste :
Doun't let the color scare you.
Remark :
Loch Dhu is also called The Black Whisky - when you look at the color of this whisky you will understand.
---
| | |
| --- | --- |
| LINKS.......... | to official Loch Dhu or related web pages. |
| URL : | None at present time. |
---
---
AWA - Alternative Whisky Academy is a private, none-commercial, no-profit, none-selling whisky society.
| | | | |
| --- | --- | --- | --- |
| | Site made by | | |