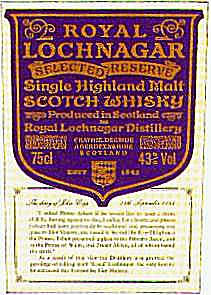 ---
ROYAL LOCHNAGAR
---
Location :
Crathie, Deeside, Ballter, Aberdeenshire, Grampian Region.
Region :
Eastern Highland
Country :
Scotland
Type :
Single Malt
Distillery :
Royal Lochnagar Distillery.
Crathie, Ballater, Aberdeenshire AB35 5TB
Visitor center : Open from 10.00 to 17.00 Monday to Friday all year.
Groups by appointment. Admission charge redeemable in shop.
Phone : 01339-742273
Fax : 01339-742312
(Visitors per year : 35.000) Manager : Alastair Skakles
Founded :
Built in 1826 by James Robertson and rebuilt in 1845 by John Begg.
Owner :
Owned by DCL since 1916, Bought by Dewars. Now owned by United Distillers and is licensed to John Begg Ltd.
Producer :
Royal Lochnagar Distillery.
Water :
Local springs below Lochnagar
Remark :
This is the only Deeside maltwhisky.
Mostly used within blends.

Lochnagar distillery was built in the years around 1826 by a Mr. James Robertson an infamous local illicit distiller, who placed the distillery on the slopes of the mountain Lochnagar from which it took its name.
Distilling wasn't peaceful work at that time, Lochnagar was destroyed by a fire in 1841 reputed the work of rival illicit distillers.
Four years later in 1845 it was taken over by John Begg who rebuilt the still.
The 'Royal' prefix came after a visit and tasting by Queen Victoria and Prince Albert in 1848, who stayed at nearby Balmoral.
---
BOTTLINGS
---
Royal Lochnagar
12 years old.
Sorry no picture.
Age :
12 years old.
Vol :
40%
Price :
: \L\12,- Dmark in Germany / Berlin = Approx. 200,- Dkr.)
Remark :
Due to be tested !
---
Royal Lochnagar
Special Reserve.
Sorry no picture.
Age :
No age statment given for Selected Reserve.
Vol :
43%
Price :
?
Remark :
This should have a more robuste taste than the 12 years old..
---
| | |
| --- | --- |
| LINKS.......... | to other Royal Lochnagar related web pages. |
| URL : | None at present time. |
---
---
AWA - Alternative Whisky Academy is a private, none-commercial, no-profit, none-selling whisky society.
| | | | |
| --- | --- | --- | --- |
| | Site made by | | |